Description
Woodside Designer Laminated Wooden Door features a stunning craft of modern embossed laminates. Clean cut, defined edges coupled with a sleek structure results in an extremely precious and contemporary solid laminated flush door.These Main Doors are manufactured by a special method of extrusion with the help of untreated saw mill residues from saw mills and jute sticks on an eco-friendly basis. These door's outstanding properties makes them an excellent substitute for timber doors. Its capacity of giving almost all the benefits of wooden doors makes such main doors a choicest product.
Available in standard height and width.

Thicknessess of 33mm and 38mm.

Engineered Wood Large door handles fabricated on both side.

Superior quality, high standards laminate on both side.
Related Products (1)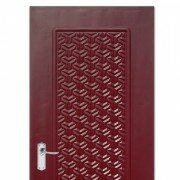 Designer Wooden 3D Main Door (4301)
Woodside Designer 3D Wooden Main Door features a stunning craft of modern embossed 3D desi..
Add to Cart
Wishlist
Compare