Description
Clean cut, defined edges coupled with a sleek structure results in an extremely precious and contemporary solid flush door.These Main Doors are manufactured by a special method of extrusion with the help of untreated saw mill residues from saw mills and jute sticks on an eco-friendly basis. These door's outstanding properties makes them an excellent substitute for timber doors. Its capacity of giving almost all the benefits of wooden doors makes such main doors a choicest product.
Available in standard height and width.

Thicknessess of 33mm and 38mm.
Related Products (1)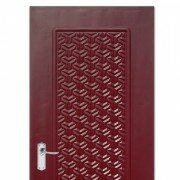 Designer Wooden 3D Main Door (4301)
Woodside Designer 3D Wooden Main Door features a stunning craft of modern embossed 3D desi..
Add to Cart
Wishlist
Compare